Founding Members of the Going Home Coalition
The Founding members of the Going Home Coalition include: The Refuge Outreach Church, Community Service Foundation, Inc., Peace Memorial Presbyterian Church of Clearwater, St. Vincent de Paul-Community Kitchen and Resource Center of Clearwater, Church of Scientology, Trinity Presbyterian and Peace Café and the Joy of the Gospel Ministries – Monday Feeding ministry.
Donations from Our Sponsors
2018 CSF Charity Golf Classic (December 2018)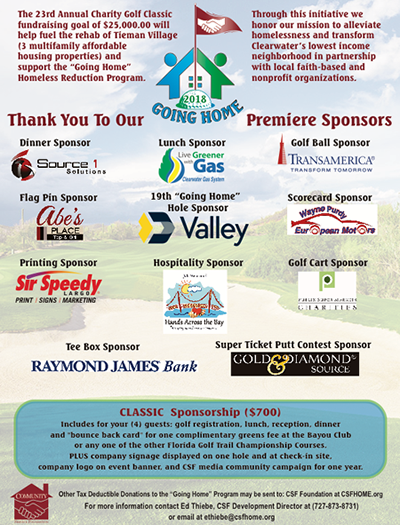 Donation: $19,255.91
Homeownership for All Inc.
Florida Realtors Association (Nov.9)
200 South Monroe Street
Tallahassee, FL 32302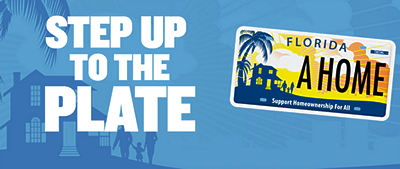 Donation: $10,000.00
Anonymous Donation (Nov. 2018)
Donation: $25,000.00
Gerald Gehrand
St. Vincent De Paul Donation (December 2018)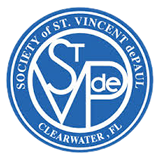 Donation: $4,000.00
Total Donations from Our Sponsors — $ 58,255.91 — Thanks for Your Support!
Dear Board of Directors: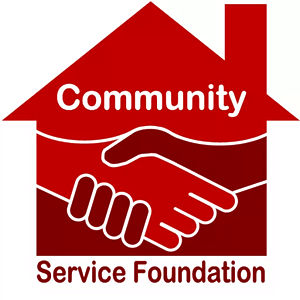 The quality of life and the strength of Pinellas County's tourism economy depend on the hard work of low-to moderate wage employees. While it may be a hope and dream for these families to own their own home, the reality is that without access to affordable rental housing and guidance, opening the front door to the loan office is out of reach.
The Community Service Foundation's (CSF) Homeownership For All, Inc. grant proposal represents an opportunity to invest in the process to expand the pool of eligible first time homebuyers by ensuring that resources are targeted to help those most in need.
To that end, we plan to breathe new life into 7 decaying rental properties (named Tieman Village) in Lake Bellevue, Clearwater; the apartments were recently purchased in partnership with Pinellas County Community Development and Planning Division, and Clearwater Economic Development and Housing Department. Lake Bellevue is a Clearwater Strategic Revitalization Neighborhood, 70% of residents are low-to moderate income with a median income of $26,271; Clearwater's median income is $43,306.
This is not just about preserving properties, it's about connecting people to housing assistance and services. As a 501(c) (3) nonprofit organization accountable to the community, CSF has honored its mission to provide below market rate housing for the low-to moderate wage workers for 60 years. And, in partnership with nonprofit organizations, we provide a spectrum of support services that increase families' financial literacy and open a door to the banking system. Through goal-setting, expanded knowledge, and real support from their community, this becomes the entry point to the home ownership process.
We respectfully request your approval of the $10,000.00 Home Ownership For All, Inc. grant proposal. Working collaboratively, working in coordination and working smart, the Foundation can effectively transform the lives of low-to moderate income residents through access to home ownership.
Private Donations $29,000